Despite the challenges faced in 2021, a number of commodities have reached new historical values and more is expected in 2022. According to Fitch Solutions, lithium, tin and coking coal prices are expected to be on the rise amongst all the minerals. Therefore, most mining Companies can continue to expect a strong ore and metal production and a year of high earnings. On a further note, with new technologies shaping the future and the way we do things, the mining industry is in a state of "disruption". This is mainly caused by consumption patterns and environmental, social and governance (ESG). The electric vehicle sector will also require a higher demand, causing higher investments in copper, lithium and nickel. The figure below shows the expected sector growth in 2022.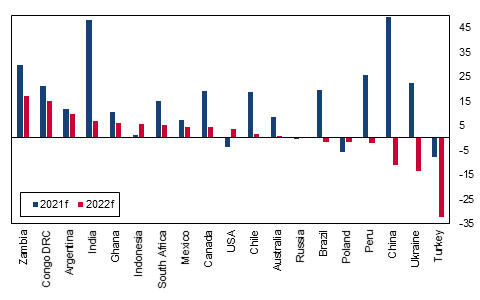 The technological advancement is accelerating, the mining industry is expected to widen the gap between developed and underdeveloped markets, which might cause higher competition between developed markets. With that being said, as sustainability is becoming an integral part of the mining industry worldwide, there is pressure on mining companies to decarbonise and to minimize environmental impact. This will dramatically improve mining's image from an environmental point of view, considering that mining is responsible for 4%-7% of global CHG emissions, according to McKinsey & Co. 
Making sure that social responsibility and human factors are taught in academia is also a step towards better sustainability. Students and young engineers should be taught these concepts from the beginning in order to start implementing them right away in the workplace. Creating awareness in academic institutions will ensure that sustainability is an integral part of mining even it is not within a mining operation. Sustainability is also a holistic concept, where it involves environment, society and humans. So, with many technological advancements, the need of human ethics is also needed. Technology needs to be used in a way the benefits the greater population of a country, rather than a small group of people. 
The need of an adaptable mining software is also expected to be in high demand in the upcoming years. This originates from the fact that every mine is different. The similarities are located in the mining method in general, but there aren't any mines that operate exactly the same way. Therefore, having a customizable mining software that is able to meet the specific need of a particular mine is crucial. Overall, this will help the mining industry advance from a technological point of view. 
References: 
Mining and metals key themes for 2022. Fitch Solutions: Data, Research & Analytics for Credit Risk & Strategy. (n.d.). Retrieved January 20, 2022, from https://www.fitchsolutions.com/mining/mining-and-metals-key-themes-2022-06-10-2021?fSWebArticleValidation=true&mkt_tok=NzMyLUNLSC03NjcAAAGCFHeBzslYdPnBDYQPHAH0zGMi4oDoIsggteKLSP2tvAhwkvwE-XJcntL4E0wtQDgPoy0z8BIlfLrLXTULMfSVbh_SylQNE7RTVsaajzYSL2zPeVUI4A  
Mining industry to continue flying high through 2022 – report. MINING.COM. (2021, June 2). Retrieved January 20, 2022, from https://www.mining.com/miners-to-continue-flying-high-through-2022-report/