Among the 3 top countries mining copper, Chile stands as the biggest producer worldwide. With millions of tonnes mined annually, the South American country hosts approximately 200 million tonnes of copper. Some of the largest copper mines in Chile are Escondida, Collahausi, and El Teniente projects. The Escondida mine, located in Northern Chile, is operated by Codelco, which is the world's largest copper mining company. 
The graph below shows how quickly copper prices increased during 2020-2021. It is clear that the Chilean Mining Market made a huge contribution to this increase, having a market share of 28%. While Chile supplies the copper demand worldwide, it contributes to approximately 10 percent of its own GDP and represents half of the country's export.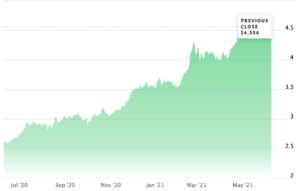 Photo taken from Nasdaq 
As the mining industry keeps on becoming more popular in Chile, it is perhaps a good time to step back and set new goals for the future. With the new regulation setting a tax system, more factors should be taken into consideration, such as sustainability measures, community relations, social responsibility, clean technology, etc. Taking these measures will ensure a strong foundation to drive the mining sector in Chile in the right direction. Having a set of regulations should in fact take into account what could happen in the future, to ensure sustainable growth with correct measures. 
Mining in Chile is therefore crucial to its economy and an important part of its culture. In the major mining area, importance is accorded to resource quality, reserve base, and deposit location, the north being a popular region. A legal framework ensuring stability and security is also an important factor for many mining projects. 
It is therefore important to use the appropriate technology that will enable Chile to conduct a sustainable framework to continue pursuing its ever-lasting tradition. Particularly, using software capable of keeping up with the fast-paced industry is of utmost importance to ensure well-organized growth. A software that is capable of handling day-to-day operations while covering all essential steps in a mining project can be extremely useful in this case, allowing mining professionals to stay up to date on daily tasks and to be more efficient in their project planning. 
References: 
(n.d.). Chile – Mining. Retrieved from https://www.trade.gov/knowledge-product/chile-mining-and-minerals
Chile calls for debate on how to best tap the boom. (2021, June 08). Retrieved from https://www.mining.com/web/chile-calls-for-debate-on-how-to-best-tap-the-boom/
HG:CMX. (n.d.). Retrieved from https://www.nasdaq.com/market-activity/commodities/hg:cmx
Mining in Chile. (n.d.). Retrieved from https://www.cochilco.cl/SIAC/Paginas/English/Mining-in-Chile.aspx
Top five copper mining countries in the world by 2020 production. (2021, May 20). Retrieved from https://www.nsenergybusiness.com/news/top-five-copper-mining-countries/